Mickey Hoodie for My Little Dog
Remember the very 1st two sweaters that i crocheted for my dog? This time, I want to make a Mickey Hoodie that is of better material and with sleeves. Why Mickey? Because I love Mickey Mouse ever since i was a little kid! My friends called me Mousey. Haha. Anyway, I always wonder how they crochet the sleeves onto the sweater.
This website by Jenna Wingate helped me a lot in this project. 
http://adoginasweater.blogspot.com/2011/02/dog-sweater-tutorial.html
I'm so thankful for her tutorial on how to make a basic dog sweater. I find her tutorial really useful because the method she taught caters to dogs of ALL shapes and sizes. Thank you so much Jenna! 
This is my beautiful Twinkle having her fitting for her new outfit.
Almost done with the mickey hoodie. I did some decrease stitches at the bottom of the sweater so it will fit Twinkle's body shape nicely. Now the question is, how do I crochet the hoodie onto the sweater? I have no idea how and i couldn't find any tutorials to guide me. So its trial and error time.
After the 2nd try, i finally succeeded! The 1st hood i did was too small for Twinkle. This Hoodie took me approximately 4 days to complete. But i'm really happy with the final product. And Twinkle looks so adorable in her new outfit!
She got so comfy in her new hoodie that she fell asleep.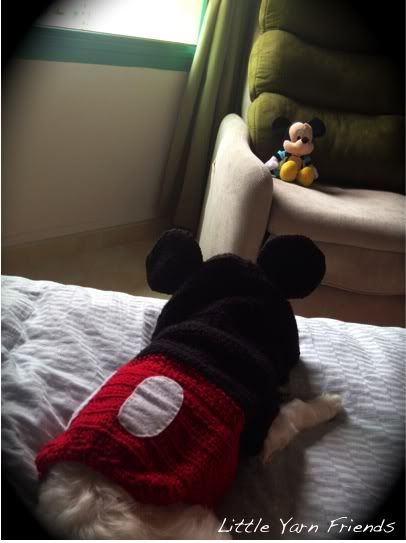 Mickey-fied dog starring at her Mickey friend.
1 Notes/ Hide
fridays-neophyte likes this
littleyarnfriends posted this